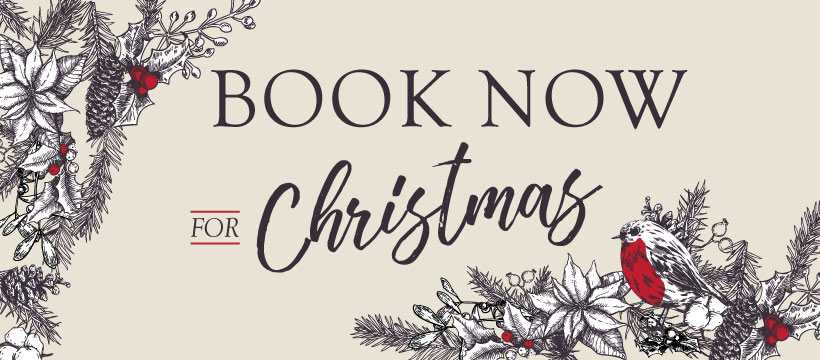 BOOK NOW FOR CHRISTMAS 2020!
Christmas at a Wadworth Managed Pub is guaranteed to be one of your highlights of 2020.
From set menus to festive drinks, we've got your celebrations covered.
Christmas Celebration Meals
With a choice of either a 2 or 3 course meal, you can enjoy great festive cheer with us from the 1st November.
Each booking will require a £5 deposit per person, and all Celebration Menu bookings made and paid for before 1st November will receive a 10% discount!
Christmas Day Menu
Christmas Day is sure to be a day to remember with our carefully selected 5 course meal. Please note, we will require a £10 deposit per head.
With a wide variety of starters, mains and puddings to choose from, as well as a refreshing sorbet to cleanse your palate after your starter and finishing off with a coffee and mince pie, we plan to make your day special. Find a Pub to book your Christmas Day meal now!
Terms & Conditions
Bookings are subject to government guidelines and may be subject to change - please read our guidelines (right) for up to date policies at the time of your booking.

A non-returnable deposit is required for confirmation of all bookings. Deposits are £5 per person for Celebration menu & party bookings and £10 per person on Christmas & New Year's Eve.

We require payment in full prior to arrival and a pre-order is required to confirm the booking.

All Celebration Menu bookings made and paid for before 1st November will receive a 10% discount.

All alcoholic drink offers are available to over 18s only, subject to availability and management reserve the right to refuse service. Please drink responsibly.

All menus and food items are subject to availability and subject to change. Including opening hours and hours each menu option is available – these are subject to change due to government policies around Covid-19.

All payments by cheque must be received at least 10 working days prior to booking. Cheque payments on the day are not accepted. Please do not send cash by post.

If you for any reason have a cancellation and/or menu change due to unforeseen circumstances this can be made up to 72 hours in advance of the booking. We reserve the right to charge in full for any cancellations or amends made after this point.

Please advise well in advance of any special dietary or access requirements and we will do our best to accommodate.

We reserve the right to amend these conditions without prior notice and to withhold service in compliance with health and safety and/or licensing regulations.
Designated Driver free soft drink offer. Full details to follow.
IF YOU HAVE A FOOD ALLERGY OR INTOLERANCE PLEASE LET US KNOW BEFORE ORDERING AND ASK FOR OUR ALLERGY MATRIX.

Although we take all reasonable precautions to prevent cross contamination of allergens, this is not always possible as we handle and prepare a variety of open foods that contain allergens. Our menu descriptions do not include all ingredients. (v) = vegetarian option. (vg) = vegan option.

All weights are approximate before cooking. Fish dishes may contain small bones. We aim to support local farmers and growers from the Assured Food Standards Association.

Prices are in pounds sterling and include VAT, at the current rate.
Covid-19 Guidelines
We are Covid-secure and our guidelines are in line with government policies. Current guidance is as follows. These rules will be updated as and when there are any changes in government policy.
Opening Times And Bookings
Please make sure you check the opening times of each pub, which can be found on Find a Pub.
Booking is highly recommended for both drinking and eating to secure your space as capacity is limited.
Rule of Six
We can accommodate tables up to 6 people maximum – this is a legal requirement. The time a table can be booked for might be restricted, please check when booking.
If your group is larger than 6 you may be able to make separate bookings in separate names if tables are available. To reiterate, the legal requirement is that tables cannot exceed 6, guests cannot mix between tables and all furniture must be kept in place.
Groups of 6 may now be from multiple households.
Face Coverings are now Mandatory
All customers must wear a face covering when entering our premises. Face coverings can be removed when eating, drinking or within your hotel room.
Our front of house team members will also be wearing a face covering.
Test & Trace
A host or team member will meet you at the door. The lead booker must give their contact details when entering the pub along with the size of the group. This is a legal requirement and we will refuse entry if these details are not given. This will be recorded in our Test & Trace system. Your details will be stored securely and then destroyed after a 21-day period.
Other changes we've made and safety measures in place
The host will take you to your table - there is no service at the bar, we have table service or you can download our app. This will all be explained to you.
There is social distancing signage and sanitiser points throughout the pub. Entrances and exits are clearly signalled to enable you to enter and leave safely. Please follow this.
We have gone cashless. You can pay though the app or with a card or through your mobile. We've increased contactless to £45.
Children need to be with you at all times.
We've introduced a 3 Point Plan to summarise all the steps we're taking to keep our guests and team safe - have a look at our video.