WADWORTH PUBS CELEBRATE SUCCESS AT AWARDS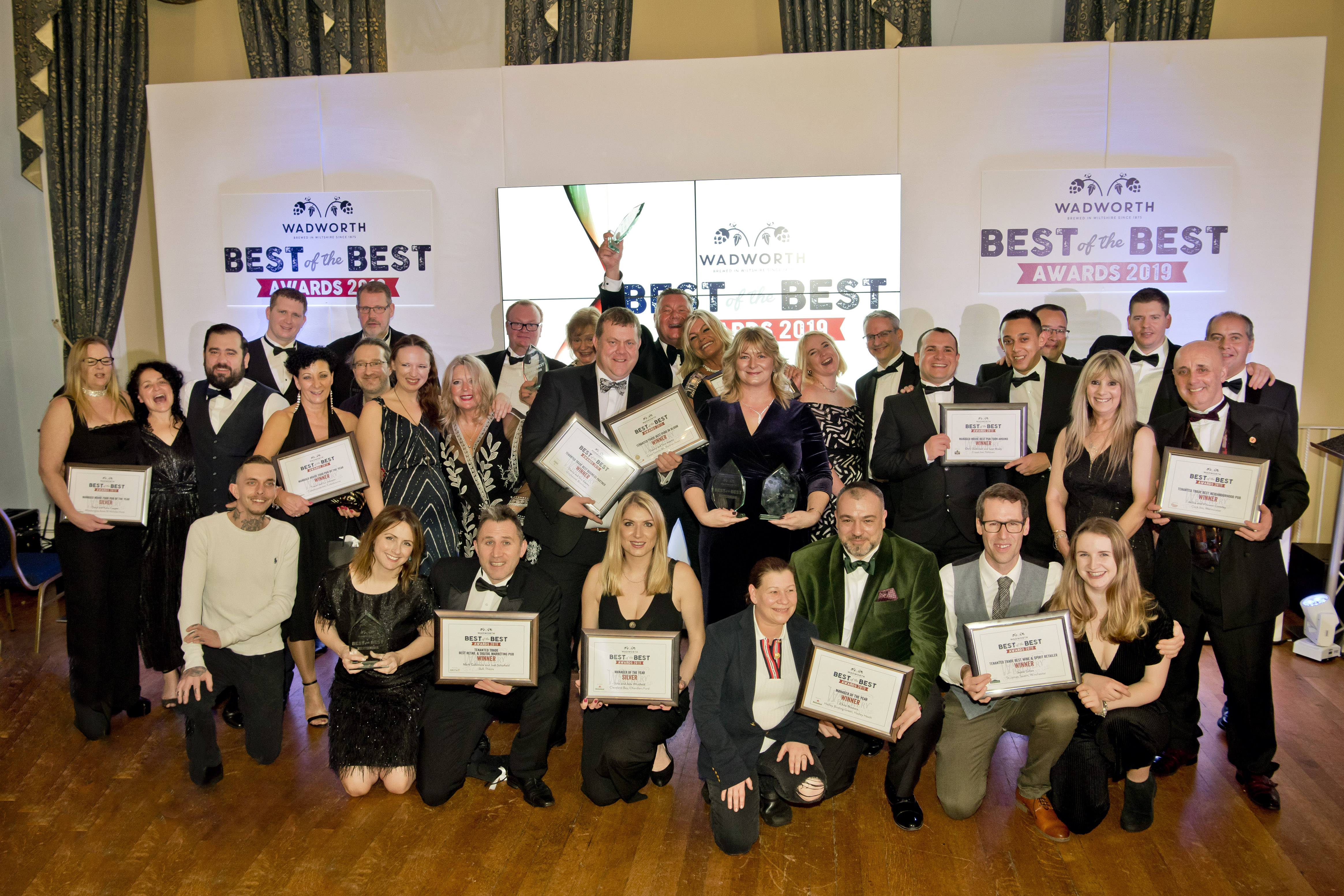 Best of the Best Pub winners announced
Twenty seven pubs celebrated their success with Wadworth at the independent family brewer and regional pub operator's annual 'Best of the Best Awards'. Held on Monday night, the awards ceremony toasts the very best pubs and people from Wadworth's managed and tenanted pub estates.
Pubs received the prestigious awards during the night from various sponsors in the industry. Best tenanted food pub went to Bull Inn in Hinton with the Colesbourne Inn near Cheltenham receiving the same in the managed house category. Best Chef went to Adrian Bartels from the Bear Hotel in Devizes. Beer quality was also celebrated, alongside Best Marketing, Wine & Spirit Retailer and Best Newcomer.
Speaking about the awards, Chris Welham, CEO of Wadworth said, "Our pubs are unique and special and these awards recognise the dedication and hard work that goes into creating some of the Great British Pubs around. I'm extremely proud of all the Wadworth pubs recognised and they deserve huge congratulations. The biggest winners are the communities that have these pubs at their very heart and I'm sure they will help them celebrate their success in the future".
The annual awards took place at The Bear Hotel's Grand Ballroom in Devizes and saw a total of 27 accolades being awarded to the standout managers, tenants, chefs, team members and pubs. Sponsors on the night included Wadworth 6X, Britvic, Bibendum, Heineken, Molsen Coors, San Miguel, Birra Moretti, Weston's Cider, Thatchers Cider, Walter Rose and Sons, Chemisphere, Brakes and Superior Plants.
Ends
Full list of award winners:
Managed House Best Team Member:
Amanda Baker, The Pheasant, Chippenham
Managed House Best Chef:
Silver: Dan Harrington, The Dolphin, Botley
Winner: Adrian Bartels, The Bear, Devizes
Tenanted Trade Pubs in Bloom:
Winner: Danny & Tara Adams, The Canal Tavern, Bradford On Avon
Silver: Heidi Harbers, New Inn, Coate
Tenanted Trade Best Beer & Cellar Quality:
Ann & Kevin Ford, Beehive, Yeovil
Tenanted Trade Best Neighbourhood:
Vincent & Jackie Crowley, Cock Inn, Warminster
Tenanted Trade Best Retail & Digital Marketing Pub:
Mark Gallimore & Jodi Schofield, The Bull, Theale
Managed House Best Marketing Pub:
Miles Teece & Jayne Tilsley, Fox & Hounds, Theale
Tenanted Trade Best Wine & Spirit Retailer:
Jayne Gillen, St James Tavern, Winchester
Managed House Best Wine & Spirit Retailer:
Imogen Lee-Murton, The Mill, Haslemere
Tenanted Trade Best Customer Experience:
Harwood and Jo Warrington, Trigger Pond, Bicester
Managed House Best Turn Around Pub:
Chris Dickinson & Sean Brady, Crown Inn, Tolldown
Special Recognition:
Heidi Harbers, New Inn, Coate
Tenanted Trade Best Newcomer:
Pascal & Penny Rivault, Bell on the Common, Broughton Gifford
Managed House Best Newcomer:
Abi Pritchard, Inn in the Park, Poole
Tenanted Trade Best Food Pub:
Highly Commended – Mark & Kerry Jenkins, Royal Oak, Corsley
Winner – Richard & Marta Hodder, Bull Inn, Hinton
Managed House Best Food Pub:
Silver – Daryl & Katie Cooper, Wheelwrights Arms, St Nicholas Hurst
Winner – Trevor & Liz Johnson, Colesbourne Inn, Colesbourne
Managed House Best Beer & Cellar Quality Manager:
Matt Humphries, Three Crowns, Devizes
Manager of the Year:
Silver: Jade and John Whitfield, Cleveland Bay, Chandlers Ford
Winner: Chris Masters, Hadley Bowling Green, Hadley
Tenanted Trade Best Business Partner:
Danny and Tara Adams The Greyhound, Bromham
Back