Tommy ale launched in celebration of ABF The Soldiers' Charity 75th anniversary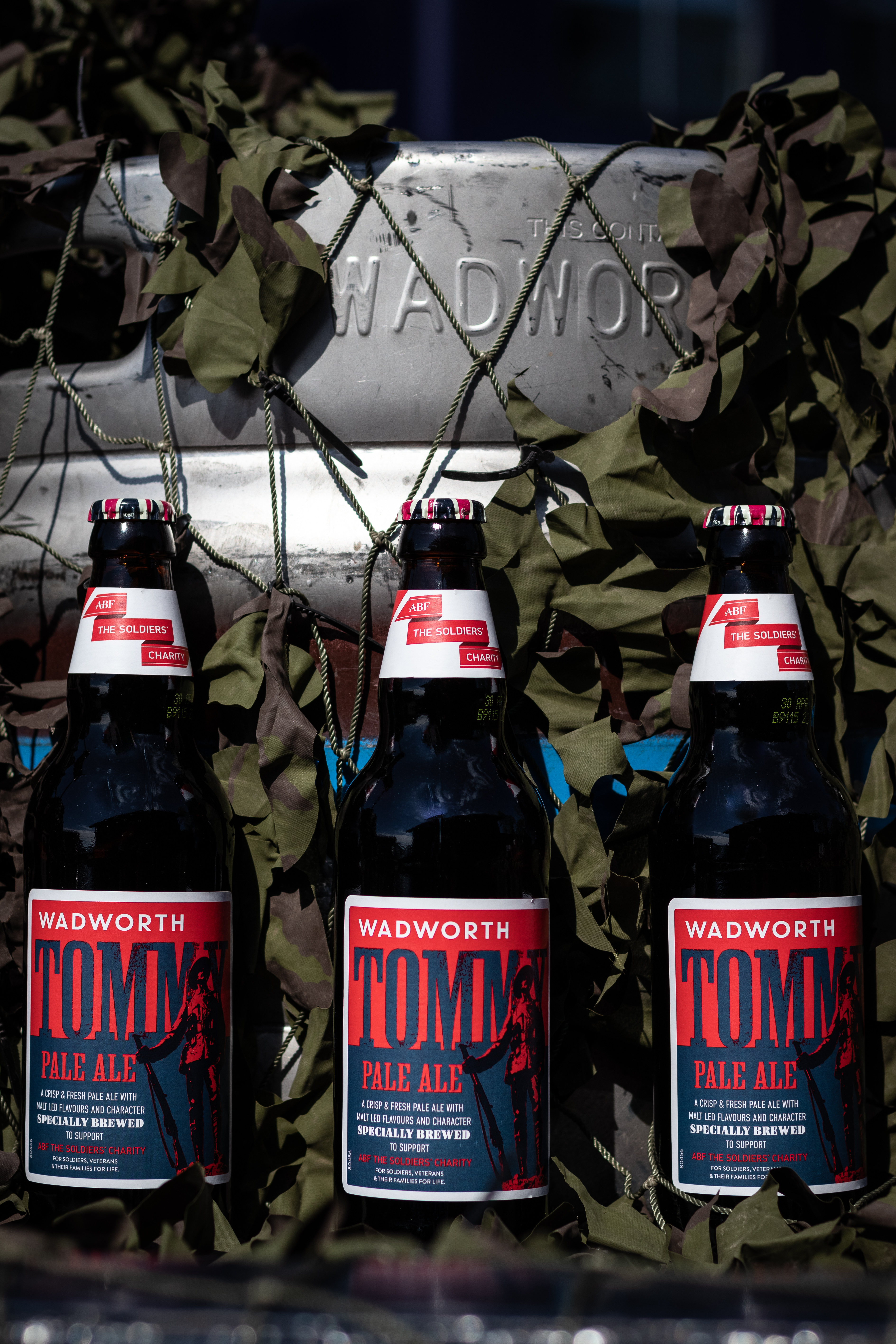 5p for every bottle sold goes to charity
Family brewer Wadworth has launched a new beer, 'Tommy' in association with ABF The Soldiers' Charity to celebrate its 75th anniversary.
Named Tommy, a nickname for a British soldier used for many years but particularly associated with WWI, the 3.6% abv ale is crisp and fresh with malt led flavours and character. Available in 500ml bottles, for every pint and bottle sold, 5p will be donated towards the charity's work supporting soldiers, veterans and their families in times of need. It is to be made available to buy at various Army bases across the country and from Wadworth's brewery shop from 6th June and their online shop from Monday 10th June.
Speaking about the collaboration, CEO for Wadworth Chris Welham said, "We are proud to be supporting The Soldiers' Charity during their 75th anniversary year and to see that, to this day, they continue to ensure that all soldiers, veterans and their families are afforded the independence and dignity they deserve. We hope that Tommy will raise a fantastic amount of money for a cause that is close to our hearts.
With two significant Army garrisons in Wiltshire; Salisbury and Swindon very close to our own brewery and the public in the area also understanding the significance of the Army here, we are sure it will be popular in the region as well as up and down the country".
Brigadier (Ret'd) Robin Bacon, Chief of Staff, The Soldiers' Charity commented, "Since 1944, the welfare of soldiers, past and present, has been at the heart of everything we do, and we are delighted to be working with Wadworth in celebration of our 75th year. In the last 12 months alone, our work touched 70,000 members of the Army family in 68 countries. Wadworth's support will go a long way to ensuring future generations of our Army family receive the support they need for years to come."
The history of Wadworth from 1875 to the present day is quite a journey: from being one of the first suppliers to the Army Canteen Board (later re-named the NAAFI) after the outbreak of World War I; to operating during the rationing of World War II. Tommy will celebrate the shared history of the two organisations and mark 75 years since The Soldiers' Charity, formerly known as the Army Benevolent Fund, was established in 1944 to care for the returning soldiers who fought in the Second World War and their immediate families.
Alongside Tommy, Wadworth continues to brew a large range of cask ales, including the national favourite 6X and a selection of seasonal beers such as Wadworth Game of Stones, Dirty Rucker and for the Rugby World Cup this year, Rising Scrum.
The Soldiers' Charity is the Army's national charity and provides support for soldiers, veterans, and their immediate families, for life.
Ends
Pictured: "Tommy" the new ale created to support The Soldiers' Charity
Press Contact: elainebeckett@wadworth.co.uk
About Wadworth: Wadworth is a regional pub operator and family brewer, with nearly 200 pubs across the South West of Britain. Founded by Henry A Wadworth, the family business passed to his founding partner John Smith Bartholomew and is now in the fourth generation of ownership by the Bartholomew family. Wadworth has brewed beer in Devizes, Wiltshire, since 1875. Its pub estate is split between tenanted and managed pubs and Wadworth works hard to ensure that its pubs offer a warm and welcoming atmosphere, excellent quality food and drink including its iconic original ale brand, 6X. For more information visit: www.wadworth.co.uk
Back